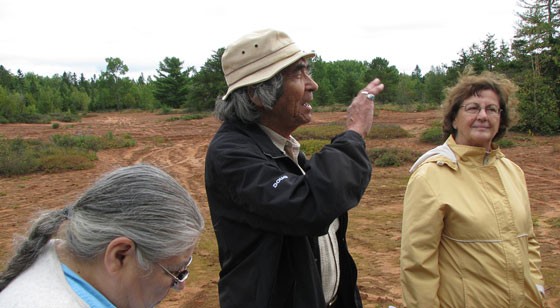 Elders Guide Us
The Mi'kmawey Debert Elders' Advisory Council uses the concept of Wejisqaliati'k as one way to describe their understanding of the Debert sites. Wejisqaliati'k translates to "we grew up from the earth," and speaks directly to the first guiding principles of the project, "As Mi'kmaq, we are descended from the people who have come before us in Mi'kma'ki".
The Elders' Advisory Council's commitment to protecting the archaeological sites reflects the universal concern of the Mi'kmaw Nation to protect ancestral sites across Mi'kma'ki. In Debert, site protection has been a complex and long process involving public meetings, land negotiations, and new legislation to protect sites in the Debert area. The EAC continues to advise the project in these efforts.
The Centre will be located close to the archaeological sites, in part for interpretation, but also because we believe this is the best way to protect these special places. In December 2008, the Mi'kmawey Debert Elders' Advisory Council located the Centre on a high knoll overlooking one of the archaeological sites.