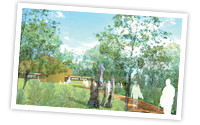 Developing the Mi'kmawey Debert Cultural Centre involves intentional and comprehensive planning for the future — inspired by love for our people and respect for our past.
A dynamic and meaningful centre for Mi'kmaw people and for visitors from across Nova Scotia, Canada, and the world, it is thought of as "a coming home place." Visitor experiences will encompass archaeological sites, outdoor trails, and immersion in Mi'kmaw worldviews and perspectives of the near and distant past. It will be a place for people to go to celebrate who we are, have been, and will be. We will ask our own questions and tell our own stories to each other and the world.
Ensuring Mi'kmaw ownership of the project is at the core of our efforts. With a mandate from the Assembly of Nova Scotia Mi'kmaw Chiefs, the project is undertaken for all thirteen Mi'kmaw communities by the Confederacy of Mainland Mi'kmaq. Monthly guidance from the Elders' Advisory Council, community outreach, and a curatorial group of experts from across the Province, generate community involvement at many levels.
Sustainability of the Centre is the second pillar of a planning process. A comprehensive Feasibility Study, a Plan for Visitor Experiences, a Master Site Plan, and a Functional Program are now completed. These documents, guided by the Elders' original vision statement, lay the foundation for a realistic and sustainable operation for many decades.