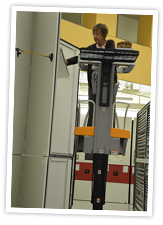 Over the past five years, the Elders' Advisory Council and Mi'kmawey Debert staff have visited various Mi'kmaw collections that are being held nationally and internationally at the Canadian Museum of Civilization (Gatineau PQ), the National Museum of American Indian, Smithsonian Institution (Washington DC), and the Nova Scotia Museum (Halifax NS).
When we visit collections, we photograph and discuss the objects, and record any historical notes. Ultimately, this process of engaging our Elders and communities is a powerful way to reflect on and explore our history and culture.
Below is a small sample of what we have learned from various collections. This slideshow will grow and expand as staff time allows. Come back soon to see more!
Watch the Land and Sea episode about Mi'kmawey Debert!
The Mi'kmaq Journey
From the deep woods of Nova Scotia – to the Smithsonian archives in Washington – the long journey to protect Mi'kmaq culture for the future.