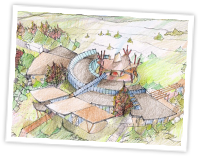 "We Look to the Past to Heal and to Learn"
The Mi'kmawey Debert Cultural Centre (MDCC) will be a living place where ancestors dwell and where past and present are connected to our daily lives. It will be a place for our children and grandchildren to learn about themselves and their families—past, present and future. We will ask our own questions and tell our own stories to each other and the world.
IRS Exhibits and Program at MDCC
Presently, the Indian Residential School exhibits are part of gallery 3, which has the theme: "We Look to the Past to Heal and to Learn." The exhibits here will have several tiers, or levels. This allows visitors to decide how deeply to immerse themselves in IRS experiences and history. The exhibits and experiences in the gallery have been created to educate visitors and give them an opportunity for their own sharing and healing.
The first tier is an historical overview of the residential school. (shown left)
The second tier would be a "residential school listening room." Designed like one of the rooms at the Shubenacadie Residential School, the listening room will allow visitors to listen to survivor stories.
Framed near a window, showing an image of a passing train, the space is meant both to inform visitors about life within the school, but also to remind them that all students came from communities outside the window and down the train track. This exhibit element was deemed too realistic by many survivors, so we will be revisiting it.
Finally, the exhibits are connected to a series of additional opportunities for healing and expression. In the space for expression and reflection, survivors and other visitors can leave written comments, stories, drawings or any other creative expression. An indoor healing space and an outdoor healing trail lead directly from indoor spaces. Visitors will be able to exit the building directly from the gallery for expression and reflection if they wish.
Honouring All Our Experiences
While there are spaces dedicated directly to the Indian Residential School, the lives of survivors will not be restricted to these areas, nor are the opportunties for healing and expression restricted to gallery 3. Along with Elder Lillian Marshall, the life stories of Douglas Knockwood (Indian Brook First Nation) and Elsie Charles Basque (Saulnierville, NS) will be central to the immersion gallery, for example. (shown right) Likewise we expect the lives of survivors to be shown throughout the Centre — stressing that survivors are not defined only by his or her IRS experience.
The Honour Wall in the last gallery, the language exhibits, and the exhibits on parallel 20th century experience (i.e., centralization) will all integrate the IRS legacy with broader historical events and processes.
The MDCC invites and welcomes any suggestions, ideas, and contributions you have that may be integrated into the creation of the IRS Legacy Program.
---
Go to next sections:
• Research and Archives
• IRS Legacy Program Curriculum Development
---
Join the Discussion, Send a Comment
Are you an IRS survivor? A descendant? We would like your input into the development of the Mi'kmawey Debert Cultural Centre IRS Legacy Program. What could the MDCC do to share and preserve the legacies and histories of the IRS survivors? What do you want your grandchildren to know about your life and your generation? Please let us know.
We would like to thank all participants of our MDCC IRS Legacy Project Community Gatherings, who shared stories and input. We look forward to hearing from you again.
There were many survivors and family members who indicated during our gatherings that they would like to submit their contributions of pictures, stories, art and their profiles to be included within the exhibit and collections. There are many who could not be at our community gatherings and we welcome and invite those who would like to contribute to the IRS Legacy program to contact us.
Post a public comment, or just browse the discussion below
Would you rather send the MDCC a private comment? Contact Tim Bernard, Director of History and Culture, at tim@cmmns.com