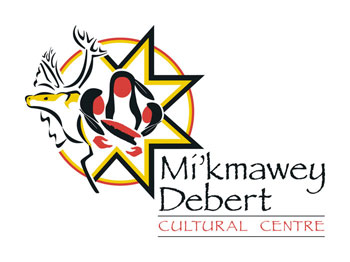 The logo of the Mi'kmawey Debert Cultural Centre has been built with layers of meaning and significance, with colour, images and icons all contributing to the overall expression of the Centre.
The logo represents the Centre, whose mission is to share, protect and explore the stories and lives of our earliest ancestors and those who have come after them in Mi'kma'ki.The Centre will share stories, protect resources, explore histories, provide for healing, and support and grow the Mi'kmaw language.
The circle that encompasses the logo embodies the Mi'kmaw Sacred Circle.The circle is a significant symbol for the Mi'kmaq. It is a shape that can be seen in nature, a shape that connects us to the design fashioned by the Creator.The Sacred Circle can be interpreted many different ways, including the cycles of the seasons and also the cycles of life, of nature, and of our relationships with the natural world around us.
The colours - red, yellow, white and black - used in the logo design have many interpretations, including the four seasons, the four directions, the stages of life, and also the peoples of the world.
The eight-pointed star is a historical symbol which indicates the seven districts of Mi'kma'ki, with the eighth point representing the Crown after signing treaties with Britain.The image of the caribou making up part of the star in the logo speaks to the essential nature of our relationship with the natural world around us and emphasizes our connection to nature.We depend on natural bounty for many items necessary for our survival, like food and shelter.
The people in the logo represent the community, including the youth, who are encircled within an Elders' embrace as traditions and knowledge are passed on.The feathers that are worn are also sacred symbols.They are used in ceremonies and for medicines.They are also gifts of achievement and accomplishment.
The projectile point shown represents the significant archaeological artifacts discovered at Debert, as well as the sophistication and knowledge of the Mi'kmaw people.