Sa'qewe'l kmitkinal
Ancestors Live Here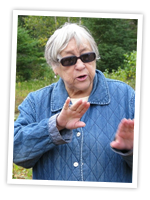 "I am from anywhere and everywhere. Eskasoni is the place I choose to live, but I am not from there… We say we are from Mi'kma'ki."
– Mi'kmaw Elder Murdena Marshall
Mi'kma'ki is a vast area. Its diverse landscapes, seascapes, rivers, plants, animals, fish, rocks, and islands are inseparable from Mi'kmaw people, language, stories, history and spirit.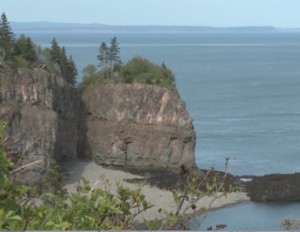 For more than 11,000 years the ancestors of the Mi'kmaq and other Lnu'k (native people) have lived in Mi'kma'ki. The lives and culture of our ancestors live through us everyday.
Look around you. Understand that the rivers were our highways, travelled by birchbark canoes. Smell the sweetgrass we cultivated in certain places. Notice the Mi'kmaw place names: Cobequid (We'kopekwitk,
meaning "as far as the water will flow"),  Caribou (qalipu, meaning "to shovel") and Shubenacadie (Si~kepene'katik, meaning "wild potato area").
Click on any of the place names on this page to see and hear more about Mi'kma'ki.