The Mi'kmawey Debert Cultural Centre will be a meaningful and dynamic centre for Mi'kmaw people, and for visitors from across Nova Scotia, Canada and the world. Currently in the planning stages, the Centre will be built in Debert, Nova Scotia—a place where our ancestors lived more than 11,000 years ago, and a place where they still dwell today.
The future cultural centre is dedicated to sharing, protecting and exploring the stories and lives of our earliest ancestors and those who have come after them in
Mi'kma'ki
.
Meet the Mi'kmawey Debert Elders' Advisory Council
In the summer of 2002, Dr. Donald Julien, Executive Director of The Confederacy of Mainland Mi'kmaq convened an Elders' Advisory Council to develop the vision of, and program for, Mi'kmawey Debert Cultural Centre. 
See more →
Mi'kmawe'l Tan Teli-kina'muemk Teaching About The Mi'kmaq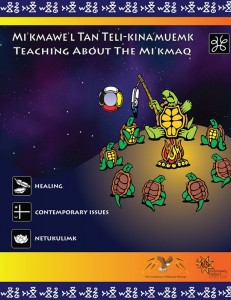 The curriculum resource developed by a distinguished group of Mi'kmaw educators is now available to teachers and the general public both online here at the MDCC website as well as in hard copy. The resource was designed for anyone who teaches Mi'kmaw history, culture and knowledge. Through the stories and knowledge of Mi'kmaw Elders, educators, and other experts, this volume will share content and teaching strategies for three subject areas for grades Primary to nine. 
Download here!
Visit the Mi'kmawey Debert Interpretive Trail
The 4.4 km trail is located in Debert, Nova Scotia, where a suite of archaeological sites was first discovered more than 60 years ago. The artifacts show remnants of life of ancestors in what was then an ice-age climate. The interpretive panels located along the trail share the ever-growing story of these sites... 
See more →
Watch the Land and Sea episode about Mi'kmawey Debert!
The Mi'kmaq Journey From the deep woods of Nova Scotia - to the Smithsonian archives in Washington - the long journey to protect Mi'kmaq culture for the future.