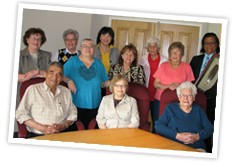 Developing the Mi'kmawey Debert Cultural Centre involves intentional and comprehensive planning for the future — inspired by love for our people and respect for our past. After more than twenty years of involvement and ten years of intensive planning, we are ready to make the Centre a reality.
Operational funding is the most critical issue for cultural centres. For example, the annual cost of maintaining facilities and the on-going costs of programming often exceed the funds generated from core government funding and other revenue sources. For this reason, and with an eye towards the future, the project is embarking on a campaign to support the unique collections and programs of the Mi'kmawey Debert Cultural Centre.
For more information,
contact Tim Bernard at tim@cmmns.com or call (902) 895-6385 ext. 245 or call toll free at 1-877-892-2424.
The Mi'kmawey Debert Elders' Advisory Council built a strong relationship with the Primates World Relief and Development Fund (PWRDF) through Dr. Jose Zarate, the Canadian Indigenous Communities and Latin America-Caribbean Development Program Coordinator.